Our Address
7/3 Zvi St.
Ramat Gan 52504
Tel: +972 (3) 612-0632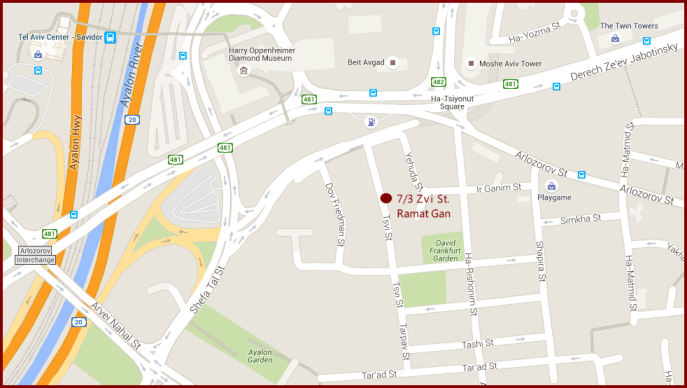 Local Landmarks

The jagrti is located about five minutes walk from all of the following places:
Central Railway Station (generally referred to as Tel Aviv Merkaz but officially named Savidor Railway Station as in the above map)
Diamond Exchange
Elite Junction
Moshe Aviv Tower, also known as City Gate, currently the tallest building in Israel
Getting Here
From Ben Gurion International Airport, the train to Tel Aviv Merkaz (Central Railway Station) takes about 12 minutes and costs less than $5. On most days and at most times, the train departs once or twice an hour. For a detailed schedule, check the Web site of Israel Railways.
Note: Unfortunately, Israel recognizes no official English spelling for Hebrew words. So road maps and street signs often spell words with no consistency. For example, our street "Zvi" can also be spelled "Tsvi" (as in the map above), even though the actual street sign shows "Zvi".
Links